The two questions Phoebe and I asked over and over while we were in DC for the Inauguration were, "Would you like us to take a picture of you all together?" and "Where are you from?"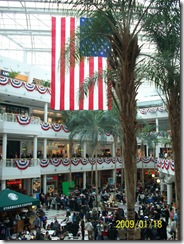 It seems there were a LOT of people in DC from Georgia (especially Atlanta) and Texas. We were surprised while transiting through Pentagon City Mall with a different answer. As we took a picture of the two young women together in the same shot, we asked where they were from. Serbia.
Serbia?!? I had to ask, why would you come all the way to the United States to see our new President get sworn in? Because one of them was specifically invited, and because it was important.