I have gotten some really amazing hotels in my travels, and some that were not so great. After a string of the not-so-great, I started a practice of taking a picture – or in really memorable cases, pictures – from the  window of my room wherever I'm staying. One of my favorites turned out to be a picture of the non-descript roof of the building next door. The reason it was my favorite though, was because it was the first time my favorite travel person, Tracy, managed to get me booked into the Ritz Carlton at Pentagon City. The roof was of one of my favorite places – Pentagon City Mall. I was in heaven!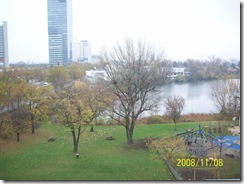 Well, so much for history – here is the picture from the Arcotel. It's a gray day, damp and foggy. Appropriate for November. But this hotel is situated in a nice little corner. There is a playground across the street and an easy walking path to get to the Vienna International Center where we have our meetings.
Erin likes the free breakfast especially because it has so many nummy breakfast foods – not a trivial consideration for a veggie as she is! Now if only the hotel had better internet connection, I would be perfectly content!