The last time the team was in Vienna, it was August. Here are some of my favorite images – including a "Group Photo" taken from an amazing restaurant high on a hill above Vienna. We all work for Erin – the tiny but brilliant person in the middle of the pack.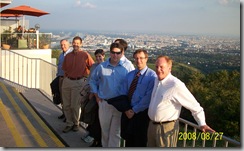 Ok, I know I just said she was brilliant. But here's a picture (left below) from a restaurant where it took us both about 15 minutes to realize that the teacup she had asked the server for several times – was right there under the tea pot! Great design, but ultimately a humbling pot of tea!  Sorry about the lack of focus – was laughing!
On the right is an amazing monument in Vienna – built by Emperor Leopold I to commemorate the city at long last emerging from the plague.