More from the Radisson SAS in Bucharest, Romania. This is quickly becoming one of my all time favorite hotels. And bar!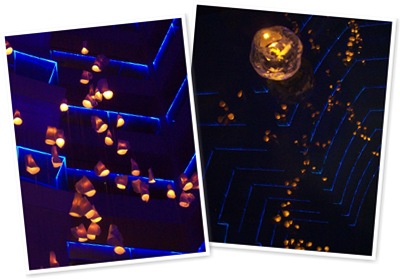 The picture on the left is looking up through the atrium past the mobile light sculpture. On the right is looking down past the snowball candle holder to see the same view reflected in the glass on the table.
"Dinner" was a sweet, simple, perfect indulgence. It started with a cocktail ("Bla 44") I will have to describe later. Suffice to say for now, it was delicious and I had to think twice about ordering a third – I didn't! I ordered chicken and pork satay that was served with peanut sauce in a martini glass. It was a perfect small dish for an evening that didn't want or need a big meal. I finished off with "pralines" which had nothing to do with pecans and was simply a plate of chocolates, and a plate of chocolate coated, freshly made marshmallows. Oh my goodness!